Jun 4, 2015
"Fastest Growing Manufacturing Metros of 2014: Two-thirds of US metros increased their manufacturing job base in 2014; Merced-CA, Danville-IL and Flint-MI grew the fastest while Detroit, Dallas, and San Jose created the most new manufacturing jobs"
Final revised numbers for 2014 (Jan. '14 – Jan. '15) show that 212 (66%) of 322 metros grew their manufacturing employment base. The fastest growing manufacturing metros stretch across multiple states – California, Illinois, Michigan, Alabama, Texas, Kentucky, and New Jersey.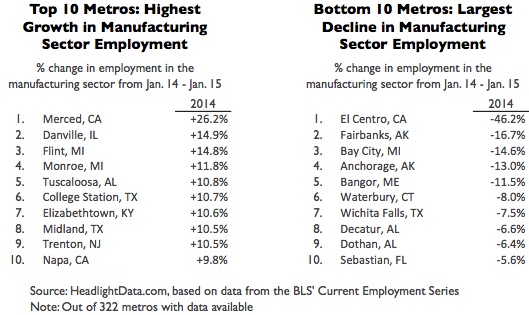 On a net job creation basis, Detroit created the most new manufacturing jobs in 2014 – nearly 18,000 jobs. Dallas, San Jose, Minneapolis, and Houston each created more than 5,000 new manufacturing jobs.
New York City shed the most manufacturing jobs (-5,100), followed by New Orleans (-1,700), El Centro-CA (-1,300), Modesto-CA (-1,200) and Phoenix (-1,100).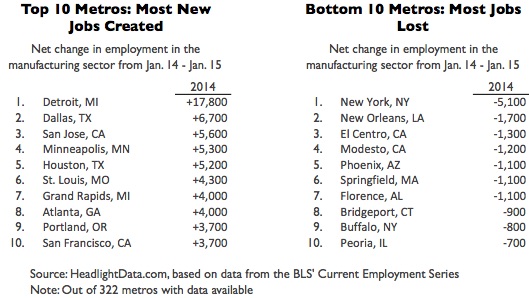 Click here to download a spreadsheet of the data for all metros: Manufacturing Employment Growth, 2014-2015 (Jan) for download